Reference Materials
SdAR reference materials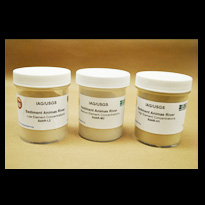 Name: SDAR-*
Price Non-Members: £ 70
Description
SdAR-L2 data sheet
SdAR-M2 data sheet
SdAR-H1 data sheet
---
SdAR reference materials
The SdAR series of reference materials is designed to resemble sediments and related materials sampled when monitoring levels of environmental contamination. They are designed for applications such as:
Calibration of field portable XRF instruments
Calibration and quality control standards instead of CRMs such as the NIST soil series (SRMs 2709-2711)
The SdAR reference materials are available in 80 g aliquots in polypropylene bottles. This unique series of three metalliferous sediments with low, medium and high concentrations of trace elements has been designed so that all the materials have detectable concentrations of all elements of interest. They have been prepared by combining ore-grade materials from multiple locations and diluting the enriched solid with baseline soils and sediment. The use of natural materials maintains the effect of mineralogy on chemical analysis and the use of distinct blending ratios provides a smooth and gradual calibration over a wide concentration range.