Reference Materials
FeMn-1 Manganese nodule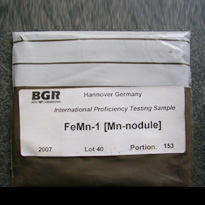 Purchase Code: QC-23A
Price
IAG members: £ 65
Non-Members: £ 100
Description
FeMn-1 data sheet
---
Description
This manganese nodule material was produced from a mix of nodule samples obtained from the Peru Basin in the Pacific Ocean.
The material is available in units of 35 g packaged in a polyethylene sachet.
Note. This material is hygroscopic and must be dried for 48 hours at 105 °C and then kept in a dessicator prior to analysis. It contains high concentrations of cobalt and it is possible that the material might sinter during determination of loss on ignition.