Certified Reference Materials
OKUM Komatiite Ontario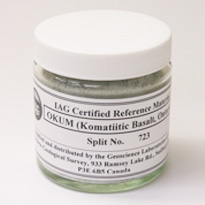 Purchase Code: IAG CRM-4
Price
IAG members: £ 100
Non-Members: £ 150
Certificate
OKUM certificate
---
Description
Sample description
OKUM is an ultramafic rock powder reference material certified for major and trace element mass fractions. This material is typical of a Mg-poor komatiite or komatiitic basalt.
Sampling location
The source material for OKUM was collected at Serpentine Mountain in McArthur Township, 25 km south of Timmins, NE Ontario, Canada. OKUM represents a 1.5 m wide spinifex zone at the top of a 14 m wide flow that showed good differentiation into various units. The sample consists of black massive rocks composed of randomly oriented spinifex blades 5-10 cm long. A pronounced bluish-grey weathered surface extended 0.5-1 cm into the face that showed exceptional development of spinifex texture. This material was blasted or sawed off and was not incorporated into the sample.
Sample preparation
Over 700 kg were collected from a 2 x 3 m site that was part of flat glaciated outcrop over 100 m in diameter. Approximately 500 kg of this material was jaw-crushed and ground to 90% < 63 µm (-230 mesh) using a continuous-feed Cr-steel ring mill. 313 kg of the pulverized material was then blended for 24 hours in a large-capacity blender and bottled in 500 ml containers. A fraction of this original material was later rebottled into 100 g splits for certification and distribution through the IAG.
Mineralogical composition
Automated point counting gives the following mineral composition:
| | | |
| --- | --- | --- |
| Tremolite | ~69vol% | |
| Chlorite | ~30 vol% | |
| Chromite | 0.58 vol% | (of which ~0.08 vol% are relict cores (>25 g/100g Cr) and ~0.5 g/100g are Fe-enriched rims (5 g/100g < Cr < 25 g/100g, 20 g/100g < Fe < 60 g/100g) |
| Pentlandite | 0.04 vol% | |
| Chalcopyrite | 0.02 vol% | |
| Ilmenite | 0.13 vol% | |
| Apatite | 0.03 vol% | |
| A sphene-/titanite-like mineral | 0.09% | (not investigated in detail, but appears to be associated with the pentlandite) |
Details of the sampling location are given in Richardson (1995) [Analyst, May 1995, Vol. 120, p. 1513 – 1518],